Bet365 – deposits and withdrawals
Bet365 offers a wide selection of methods for making deposits and withdrawals to/from your account. Each user can choose the method that is best suited and most convenient for them. Undoubtedly, credit card transactions are the most popular. Bet365 accepts all cards available in the market, i.e. Visa, Maestro and MasterCard. However, keep in mind that when you make a deposit using such a card, withdrawals can only be made to the bank account associated with that card.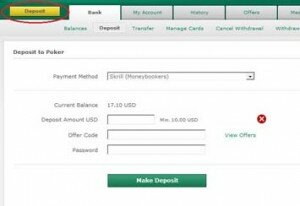 Another very convenient way of transferring money to your Bet365 account is using Moneybookers, Neteller or PayPal. The transactions are processed immediately and no additional fee is charged. What is particularly great about this method is how fast deposits and withdrawals can be made. The processing of deposits is problem-free and when you request a withdrawal from the Bet365 account, the money often appears in your bank account within ten-odd minutes. In some cases the whole withdrawal process may take 2-3 hours, although this happens very rarely.




In addition, there are also other services available for your bank account, i.e. quick money transfers and traditional wire transfers. Quick money transfers are processed immediately during your bank's opening hours at no additional fee. When it comes to traditional wire transfers, the money appears in your bank account after about 2-3 working days. In this case, however, the minimum deposit amount is higher compared to other payment methods.
Tags: bet365 deposits, bet365 money transfers, bet365 withdrawals